7 Steps to Write Social Media Content Like a Rockstar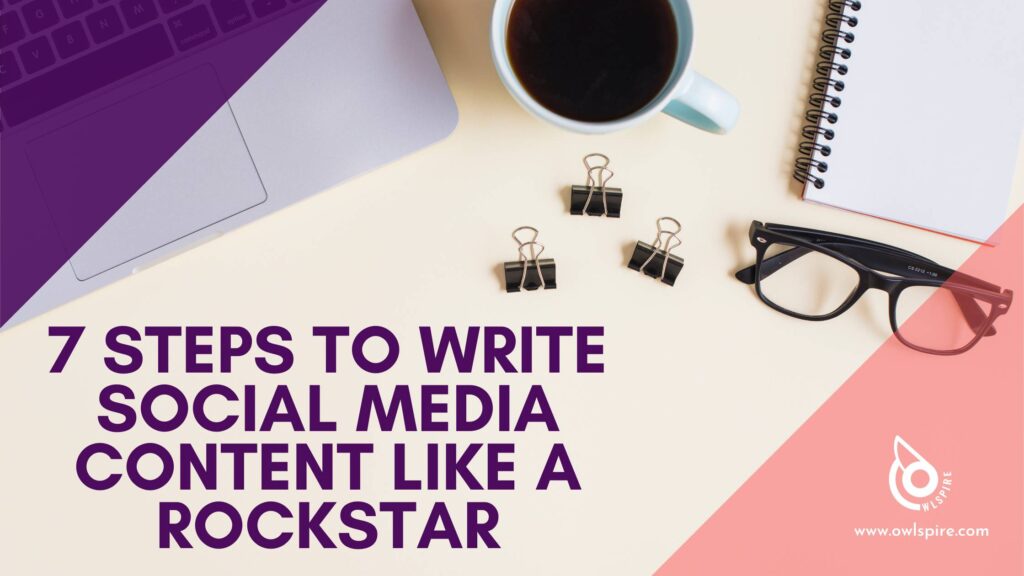 Every social media post you write reflects your brand. Sloppy content will make your brand look sloppy. That's why you need to write thoughtfully, be concise and engaging at the same time. There is a fine line between being sloppy and being meticulous. Here are seven tips for writing effective social media content.
Put Audience First
You must talk to them on social media like you are talking to a friend. How? Say 'you' more and write stories by placing the audience at the center of your story.
Be Clear and Concise
People skim on social media. So, try limiting your writing to just one or two sentences if possible because short sentences work best.
Instead of saying, "Here is our latest blog about a very awesome topic you'll enjoy," you can say, "Here's our latest blog post post about ."
Did you see that? The second sentence says the same thing more specifically with fewer words. It also sounds better as a result.
Learn Active Vs Passive
The active voice talks about an action you are taking, and it produces an engaging copy. We must try to use active voice in most of our business writing for effective communication. It sounds conversational because readers are more familiar with active than passive.
Instead of saying, "An engaging copy will be written by me," which is written in a passive voice, say, "I will write an engaging copy," which is written in an active voice and sounds better. The passive voice sentence lacks action and sounds factual, while the active voice is action-driven.
Homework for you – Write five sentences in the active voice and post them in the comments.
Write What People Want to Share
Here are the reasons people share content
To deliver value

– People share content they find valuable, helpful, entertaining and anything they think needs attention. Create content or a how-to copy that conveys a benefit. This holds good for both messages with and without accompanying links.

To express and define themselves

– Some people share content that reinforces their identity. People share content about construction equipment because they may want their audience to see them as tough and hardworking. Those who share content about trekking and outdoor equipment may wish to tell others that they are adventurous and outdoorsy.

To feel connected to others

– People want to share content to feel connected with other individuals or organizations to have meaningful conversations.

To make themselves feel valued

– They share content to get likes, shares, and comments, preferably positive.

To support causes and express beliefs

– People share on social media to stand by an opinion, support a cause or show love if they feel it is appropriate.
Invoke Curiosity
Write in such a way that makes people feel they want to know more. When writing the description to a link that you are sharing, try not to give the complete information. You can leave some details unanswered and imply that your article will have further details.
"Move Over, Great Emu War: Hummingbirds Single Winged-ly Halt Controversial Construction Project" doesn't give the complete information. What is the 'Great Emu War?' What is the controversial construction project?
Match Your Copy with Your Visual Content
Your copy and image content must together tell the same story. Even if you cannot match them, you must creatively connect the two..
Match the Message Between Your Posts and Destination Pages
What happens when you reach a wrong destination after clicking on a link? You feel like throwing the piece of the tiramisu in your hand at the ceiling. We can use clickbaits effectively to arouse intrigue and without being spammy as long as the destination page matches the description's intent.
Few content sharing tips we want to give you are:
Link only relevant and substantial content.

Make sure your post copy and the creative are relevant to the destination page's message.

Double-check the accuracy of the link.
So there it is! The tips for writing effective social media content. We must bring to your attention that 2021 is filled with brands and professionals competing on social media clamouring for attention. Those who write compelling content have the edge.
We can help you in creating compelling and effective content for your brand. Owlspire provides content marketing services tailored to your marketing needs. Get in touch with us.