Author: Neenu Sara Abraham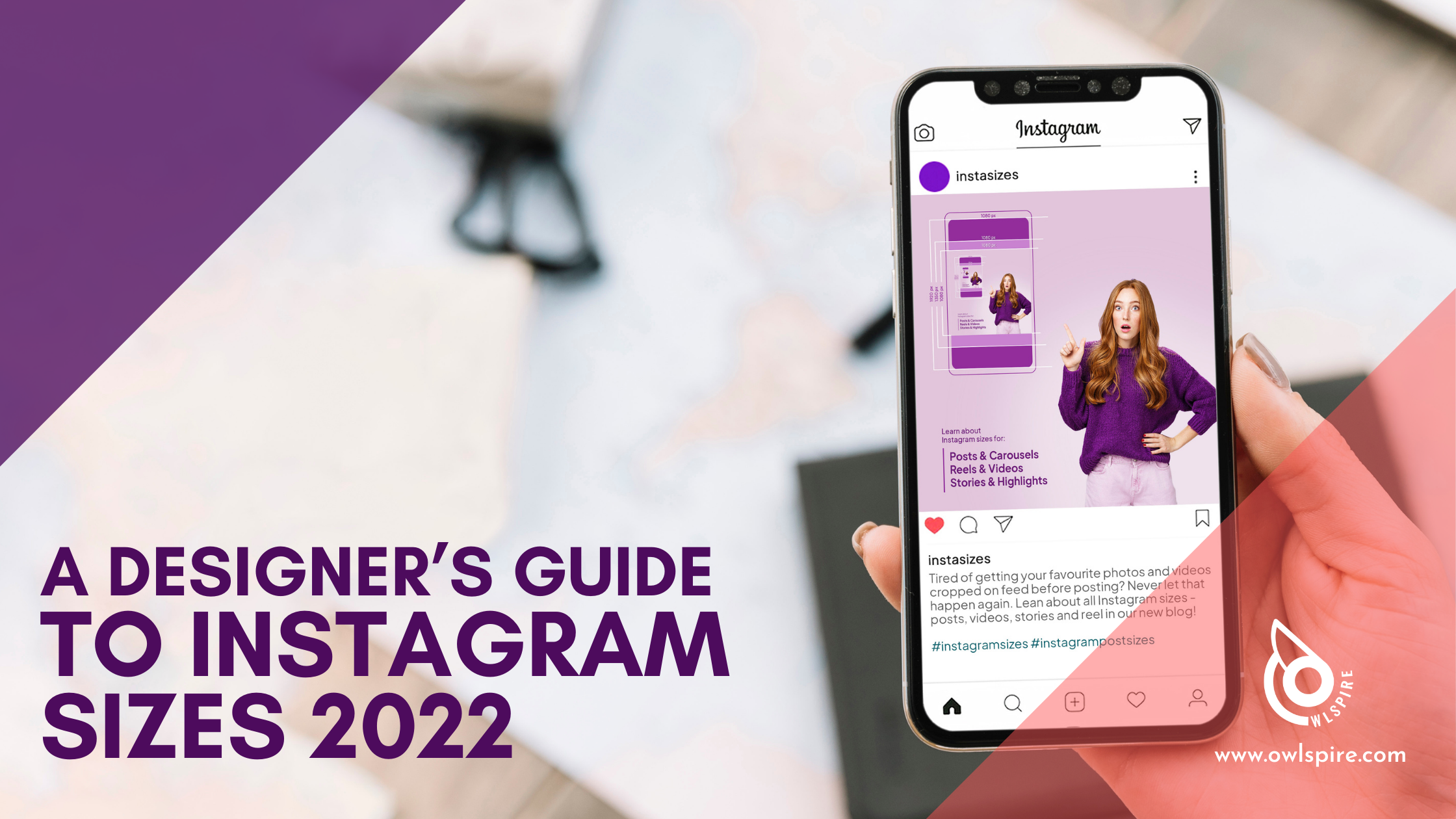 According to CNBC, Instagram reportedly crossed over 2 billion active users by the the end of 2021, and it has indeed become an unavoidable part of your marketing mix in this pandemic era. But, do you find it hard to perfectly fit your photos or videos on Instagram and worry about unnecessary cropping? This is your one stop guide to sizes of all Instagram features. Watch out for some secret designer tips at the end of each section!
How to calculate Instagram post sizes?
This is basic math but easy to confuse. An aspect ratio of the post is the width to height ratio of the post and the resolution is the pixels (pixels per inch or ppi) on that post within this ratio. The key is to first choose a standard width for any post and then adjust the heights according to your aspect ratio.

Tip:
A standard 1080 px post width with an image resolution of 300 ppi is preferred. That way your Instagram post will have good image quality even after compression and an ideal colour quality shall be maintained on different devices. You can always go above this, the output file size will change accordingly. Always remember, images for digital sharing should be in RGB format. Use sRGB colour profile if you are using professional graphic tools like Photoshop or Illustrator.

SIZES FOR INSTAGRAM PHOTOS
1:1 Square post
(1080X1080 px)
This is the easiest and the best size for photos and carousels and they don't give way for unattractive cropping on profile grid.

Tip:
While designing any post, it is convenient to leave an imaginary border around the design so that icons such as tags and carousel number do not overlap the important areas of your design.

4:5 Portrait post or 5:4 Landscape post
(1080X1350 px or 1350X1080 px)

This is the maximum possible size for an image post and maximum visible area on feed for any vertical post (including reels and videos). Since this size utilizes more area on a device screen, it can grab the users' attention more than that of the square size. You can leverage this to bring more attention to your content.
Tip:
Keep the text and important parts of the visuals within an imaginary square (1:1) in the centre to avoid cropping on profile grid.
SIZES FOR INSTAGRAM REELS & VIDEOS

By now, we know that Instagram has been pushing reels and videos a lot and has been on a mission to give more value to Creators, Instagram Business and Shopping as well as messaging. This calls for quality video sizes to amplify your content to reach more audience.
You can post Videos upto 10 minutes and Reels upto 60 seconds long. MP4 format is preferred.

9:16 Portrait or 16:9 Landscape
(1080X1920 px or 1920X1080 px)

It is possible to post videos in the above mentioned sizes like 1:1 and 4:5 but Reels are best viewed in 9:16 or full screen mode. But these are not the same. 9:16 video or photo size is a universally convenient size and the full screen size is different for different brands of phones. Instagram lets you resize your 9:16 reels to full screen mode before posting but this will cause cutting of edges.
Tip: Keep your text and important areas of graphic within central 1:2 as the top and bottom areas of video will be covered by account name, caption, etc.

Videos can be in landscape or portrait from 1:1 to 9:16. It's worth noting that the reels and portrait videos will play on feed in a maximum size of 4:5.
Tip:
While making any vertical posts like Instagram Stories, Reels and Videos, it's smart to leave extra boundaries of 50px around them and design within the 9:16 area. Now the design area becomes 1180X2020 px.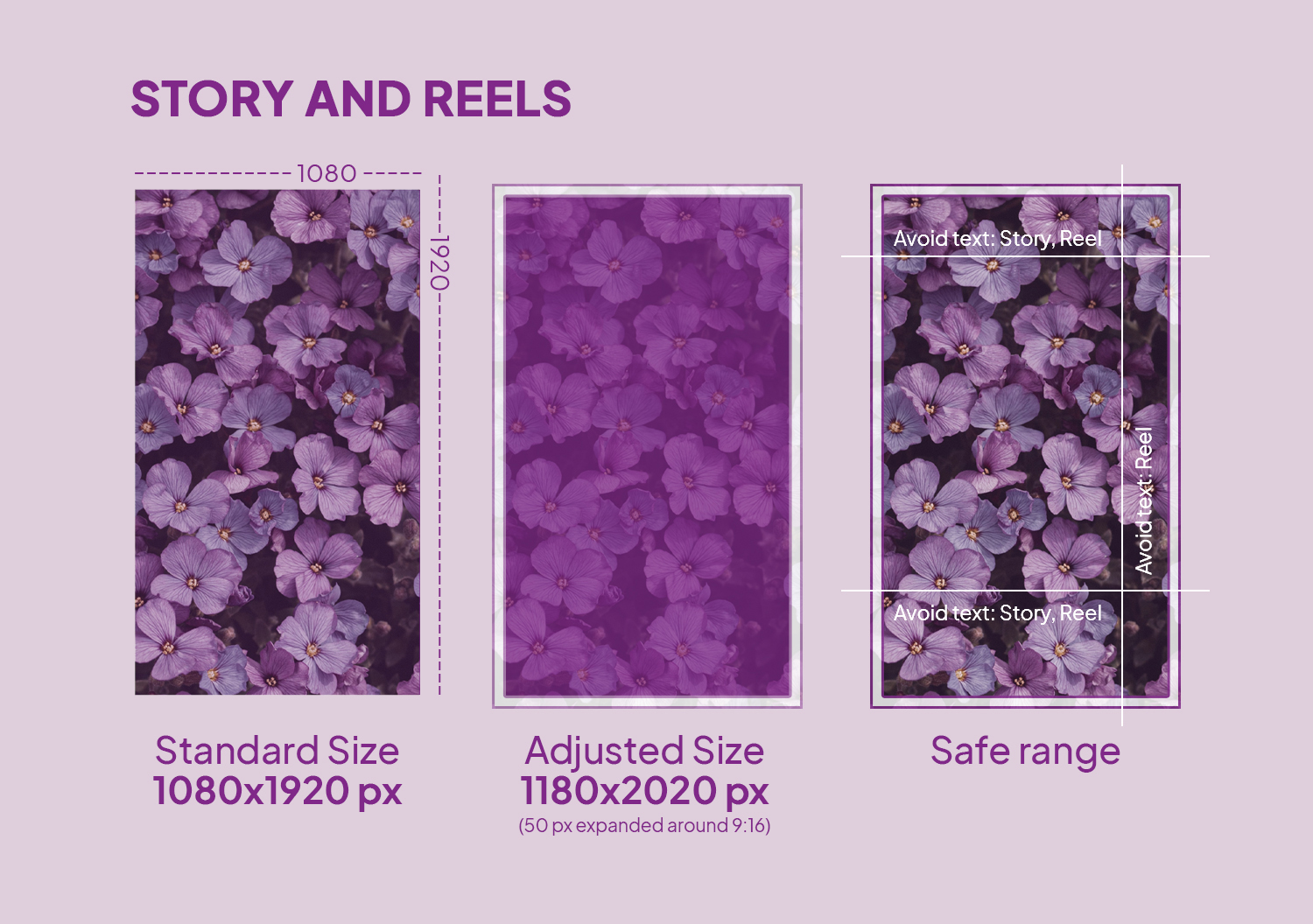 SIZE FOR INSTAGRAM STORIES
9:16 (1080X1920 px)

Though you can't reach new people, stories are the best way to communicate directly with your followers through stickers and by posting short lived updates. Each story can be 15 seconds long and Instagram splits videos upto 60 seconds by default into four stories of 15 seconds each.
Tip:
Keep your stickers like Ask question, Quiz, Poll, Link etc above the bottom 1/5th area of the screen as these may not be touchable on all devices.

SIZES FOR INSTAGRAM COVERS
Reels Cover Size – 9:16 (1080X1920 px)
Tip:

Before posting, you can view how your cover would look on the feed. On the description entering screen, scroll down to 'Crop profile image' and adjust the cover photo – you can move it up and down or even zoom in.

Video Cover Size – 4:5 (1080X1350 px)
Tip: While 4:5 size is viewed on the feed while scrolling, only the central 1:1 is visible on profile grid and in the videos tab. Add text and important areas of graphic within 1:1.
Highlights Cover Size – 1:1 to 9:16, 1080px diameter
Instagram Guide Cover Size – 1:1.55 (420X654 px)
Tip: You cannot upload a cover for Guide. It can only be chosen from your own posts or saved posts from other profiles. It's good to have a demo Instagram profile which you can use for trying out all your size experiments before officially posting. Post your desired Guide cover on this demo profile. Save this post on the main profile. Now you can use this image from your saved posts as Guide cover.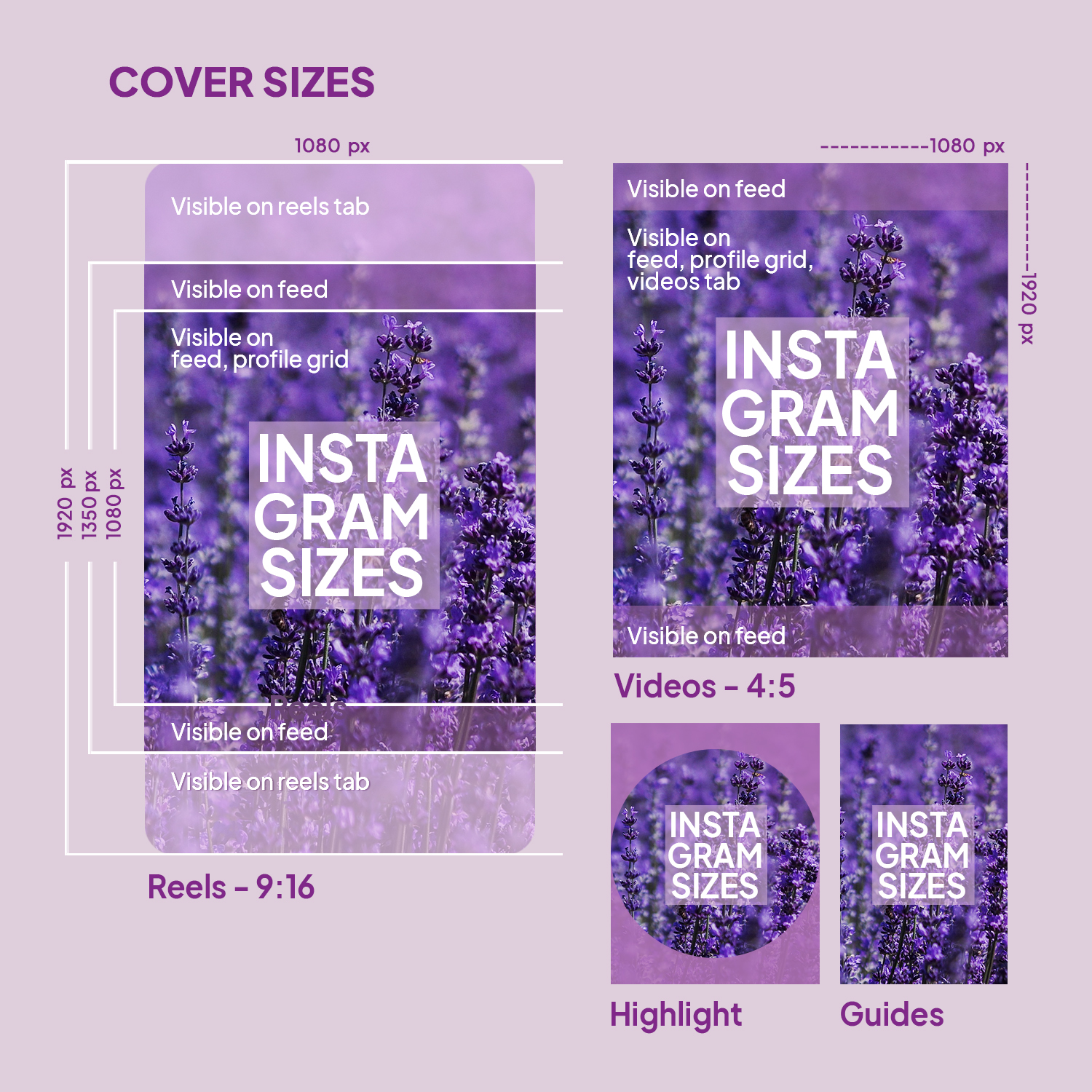 That's it, ya'll. By now, you might have understood that it is best to stick to the standard 1:1, 4:5 and 9:16 sizes. Here is a roundup of common tips:

Make sure the important parts that need to be visible on the profile grid are within the central 1:1 for all posts types.

For vertical content (stories, reels and videos), the text and story stickers must be avoided in the lowest 1/5th area.

If you want to edit a landscape video into a portrait reel, use 1:2 ratio for the reel. This will leave minimal cropping on sides compared to 9:16 and is ideal for vertical view too.
Before concluding, did you wonder why we use 1080px as the common width for any social media aspect ratio? This is because the most widely used aspect ratios for photography and videography across all devices are 1:1, 3:4, 4:5 and 9:16. And 1080px is the width (numerator) that is divisible by all these integers (1,3,4,5,9 & 16) without leaving long decimals that are complicated for calculating the height (denominator). A 1080 px image can ensure a minimum quality without getting pixelated. Happy creating, Instagrammers!
If you're looking for ways to grow your small business on social media, here are 25 ideas to revamp and jazz up your social media feed.