How To Pin Comments On Your Instagram Post
First of all, why should you pin a comment on your Instagram post?
Pinning your favourite comments to the top of your post's comments section helps to define the tone of the conversation. It's a way of moderating the comments by highlighting valid and positive discussion points. It also discourages and pushes down any negative comments further down the thread. 
Start conversations
When you invite opinions from the audience through a post, you may find several responses interesting and noteworthy. We say, pin your favourite ones! The pinned comments here can pose as conversation starters. The first time a person goes over the post, they read the pinned comments at the top and would be better prepared to voice their opinion. 
Showcase testimonials
Another use case is to highlight positive customer testimonials that appear in comments. For instance, if your post advertises a product or a service, you may find actual customers leaving comments about their own experience. Go ahead and pin those lovely comments!
Answer queries
When you receive valid questions from the audience, answer them in the comments and pin them to the top of the thread! 
Now on to the best part.
How do you pin a comment?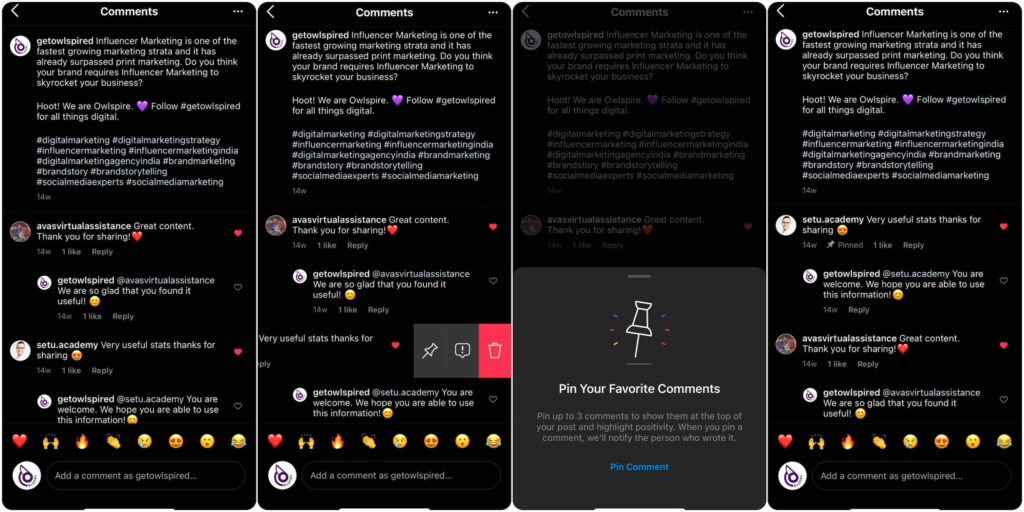 Depending on the device that you are using, long press or swipe left on the comment you want to pin.

Press the push pin button.

If you are pinning for the first time, tap 'Pin Comment' on the dialog that shows up.
That's it, your favourite comment is now pinned to the top of the thread! Pinning a comment will notify the person who wrote it. You can pin a total of 3 comments but you can't pin your own comments. Be sure to choose those 3 comments wisely.
Try it out and let us know what you think! Stay tuned for more such tips on our Instagram account and on this site.